If you need more information or have questions, please contact us at
502-254-3029 or info@carartwork.biz
Where We've Been

NCM 16th Anniversary Celebration





It was a beautiful Labor Day weekend in Bowling Green as the National Corvette Museum celebrated their 16th Anniversary in grand style. CarArtWork was thrilled to be selected to produce the Celebrity Judge awards presented to the car show judges by River Cities Corvette Club.

The #3 LeMans winning Corvette was on display throughout the weekend and Lance Miller generously provided rides around the facility to benefit the Museum. Corvette Racing history was again made in France when Lance fulfilled his father's dream of returning the class-winning #3 car to LeMans for the 50th anniversary of its win this past June. A feature-length documentary and a book on this great human interest story are both in the works from Michael Brown Productions.




Corvettes at Carlisle 2010





Corvettes at Carlisle is the world's largest Corvette extravaganza and provides Corvette enthusiasts with a vendor shopping experience that is second to none. Beautiful blue skies brought out the crowds and contributed to an 11% increase in overall attendance and an all-time high for car registration for the event which was launched in 1982.

CarArtWork is proud to have provided both the Celebrity Judge awards and the Celebrity Choice Car Show awards for this prestigious event.




| | |
| --- | --- |
| 2010 C5/C6 Birthday Bash | Corvette Racing's Johnny O'Connell was a special guest at the National Corvette Museum's 2010 Bash. Pictured here with CarArtWork Co-Owner, Diane Everse, Johnny spent much of the weekend signing autographs for fans. |

CarArtWork replicated the anniversary logo in this distinctive tribute to the NCM.

CarArtWork created these unique wall plaques to recognize the generous donations of several individuals and organizations to the NCM's building campaign.




The National Corvette Museum celebrated its 15th Anniversary with a fourth National Caravan and a Grand Re-opening celebration showcasing the NCM's recently completed 47,000 square foot expansion.
2009 National Corvette Caravan





CarArtWork was honored to be asked to create an exclusive memento available only to Caravan Participants, Captains, Co-Captains and Local Leaders.




More than 4,500 Corvettes from 48 states and several countries converged on Bowling Green, Kentucky for four days in September to celebrate the National Corvette Museum's 15th Anniversary and Grand Re-opening.
Corvettes at Carlisle 2009



CarArtWork was thrilled to be selected to create the Celebrity Judge Awards for Corvettes at Carlisle. This is the second time CAW has been chosen for this honor. The award was given to the more than 140 automotive celebrities who were invited to select their favorite Corvette from the more than 2,500 entries participating in Carlisle's Fun Field display.




Every August for the past 27 years, the Corvette faithful have flocked to the Fairgrounds in Carlisle, Pennsylvania for a weekend of "everything Corvette." Attended by more than 50,000 people annually, Corvettes at Carlisle is the world's largest and most prestigious car show dedicated exclusively to the Corvette.
Nearly 600 Corvettes lined the streets of Frisco, CO on Sunday, August 3rd for the annual Show-n-Shine - the culmination of the Looking Glass Corvette Club's 35th Anniversary Vettes on the Rockies.

CarArtWork created a beautiful metal sculpture commemorating the 35th Anniversary of Vettes on the Rockies.

David Hill, retired Corvette Chief Engineer, autographed a CarArtWork emblem.
National Corvette Homecoming 2008


Gailen, CarArtWork's Director of Security, was on the job and decked out in his new Corvette bandana.

Bowling Green artist, Jon Thomas captures Gailen on canvas in his favorite ride.


You can contact Jon at:
Hot Rod Ink
(270-799-4ART)
NCM's 2007 Anniversary Celebration

Dick Guldstrand

, world renowned race car driver and designer autographs a Grand Sport emblem sculpture by CarArtWork at the NCM's 2007 Anniversary Celebration.
The National Corvette Museum celebrated its 13th Anniversary with a three-day event featuring seminars, road tours and the Annual corvette Hall of Fame induction dinner.
| | |
| --- | --- |
| Funfest 2006 | Diane assists customers at Funfest 2006. |
CarArtWork was honored to be invited to participate in Mid America Motorwork's 13th Annual Funfest - a three-day customer appreciation party held at Mid America's headquarters in Effingham, Illinois. Attended by more than 50,000 Corvette fans, this event gets bigger and better every year.
Corvettes at Carlisle 2006

Carlisle, Pennsylvania was awash in a sea of fiberglass for the 25th Annual Corvettes at Carlisle during the last weekend in August. More than 6,000 Corvettes of all years, body styles and colors attended the largest annual three-day gathering of Corvettes in the world at the 82-acre Carlisle Fairgrounds. The showfield alone was populated with more than 2,700 Corvettes, plus a full car corral and tens of thousands of spectators.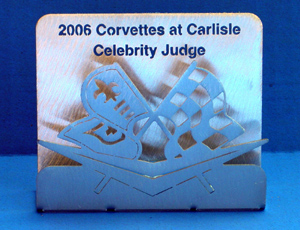 CarArtWork was honored to be selected to create the 2006 Corvettes at Carlisle Celebrity Judge awards. Each of the approximately 150 celebrity judges received a custom designed business card holder – fashioned in stainless steel, cardholder featured a 1956 Corvette emblem to commemorate the 50th anniversary of this first generation Corvette classic.
Vettes on the Rockies 2006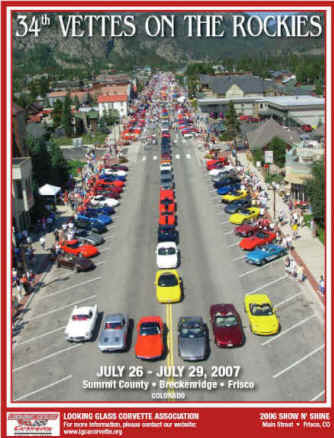 Beginning in Breckenridge and concluding on the streets of downtown Frisco – Vettes on the Rockies has grown to be one of the premier club events in the country. The Looking Glass Corvette Association of Denver stages this four-day event with more than 70 club volunteers. Sunday's Show-n-Shine attracted more than a sparkling array of Corvettes and crowds of onlookers.
The late July weather in the Rockies could not have been more beautiful – clear, sunny days and cool evenings were a refreshing change from the Summer heat and humidity in Kentucky.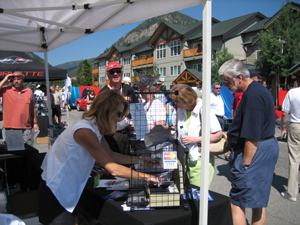 CarArtWork displays on
the streets of Frisco.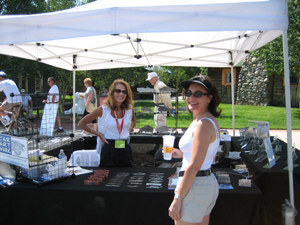 Bloomington Gold 2006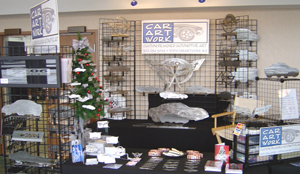 2006 marks the 34th annual Bloomington Gold Corvettes USA show, making it the longest running continuous Corvette show. And once again Bloomington Gold proved to be one of America's great Corvette events - more than 20,000 people descended on Pheasant Run Resort in St. Charles, Illinois for three days of entertainment, shopping, education and the most sought-after recognition awards in the Corvette hobby

| | |
| --- | --- |
| | The BP Amoco Ultimate Team visits with Diane at CarArtWork's booth in the MegaCenter Lobby |
1953-2003 Commemorative Edition Corvette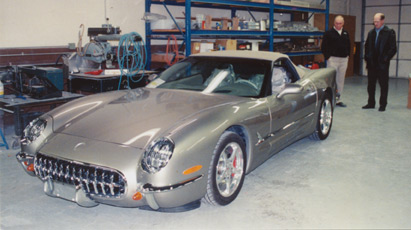 Jim Everse visits with Steve Pasteiner at Advanced Automotive Technologies in Rochester Hills, Michigan.
Advanced Automotive Technologies is the creator of the 1953-2003 Commemorative Edition Corvette. The 53-03 CE combines the retro styling of the original 1953 Corvette with the modern power and comforts of the C5 Corvette. Created to commemorate Corvette's fiftieth anniversary, this rolling work of art pays proud tribute to its predecessor. To date, more than 120 CE's have been built with production still going strong.
Click here
to view CarArtWork's metal sculpture of the 1953-03 Commemorative Edition Corvette.
2004 C5/C6 Birthday Bash
The National Corvette Museum kicked-off its 2004 event season with the C5/C6 Birthday Bash on April 22-24. CarArtWork, a Museum Store partner, was thrilled to participate as the C6 Corvette was unveiled as part of the weekend festivities. Check out the Emblems page to see CarArtWorks' latest addition - the C6 emblem depicted in metal.
| | |
| --- | --- |
| | Diane and Jim Everse display CarArtWork's metal Corvette sculptures at the C5/C6 Birthday Bash. |


50th Anniversary Celebration
Fifty years and five generations in the making – the Corvette 50th Anniversary Celebration was certainly a once-in-a-lifetime experience! More than 20,000 Corvette owners, fans and enthusiasts from around the globe participated in this historic event. Bowling Green, Nashville and the highway in between were a constant sea of Corvettes. For five days in June 2003 – it was "everything Corvette!"

CarArtWork was honored to be invited to participate in both celebrations. - General Motors' 50th Anniversary Celebration in Nashville and The National Corvette Museum's 50th Anniversary Part yin Bowling Green.