Corvette Shadowbox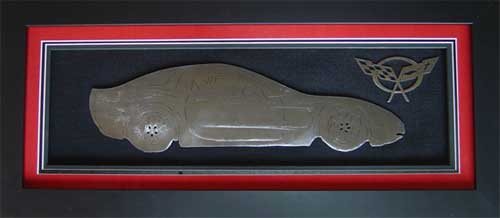 The shadowbox is fashioned out of a 1 1/4" Black Satin Wood Cube molding with an outside mat selected to match your Corvette. A black 100% rag mat is used for accent. All mats are premium conservation quality material. The Corvette and accompanying emblem are floated between the mats. Overall size is 26 x 11 inches.
Price: $229.95 Order
Available Models:
1953-55 Roadster
1958-60 Roadster
1961 Roadster
1962 Roadster
1963-64 Coupe

1970-72 Coupe
1984-91 Coupe
1992-96 Coupe
1997-2004 Coupe
1997-2004 Convertible
2001-04 Z06 405 HP

2003 50th Anniversary Coupe
2003 50th Anniversary Convertible
2005-10 Coupe
2005-10 Convertible

Include model and mat color in comments section when checking out or contact CarArtWork at 502.254.3029 to order.
View My Cart

Order online, by phone at 502-254-3029 or print a copy of our order form and fax to 502-254-2522.